RECIPES
Pastitsio with lamb, handmade papardelle, béchamel and carob with a glass of Melissaki P.G.I. Crete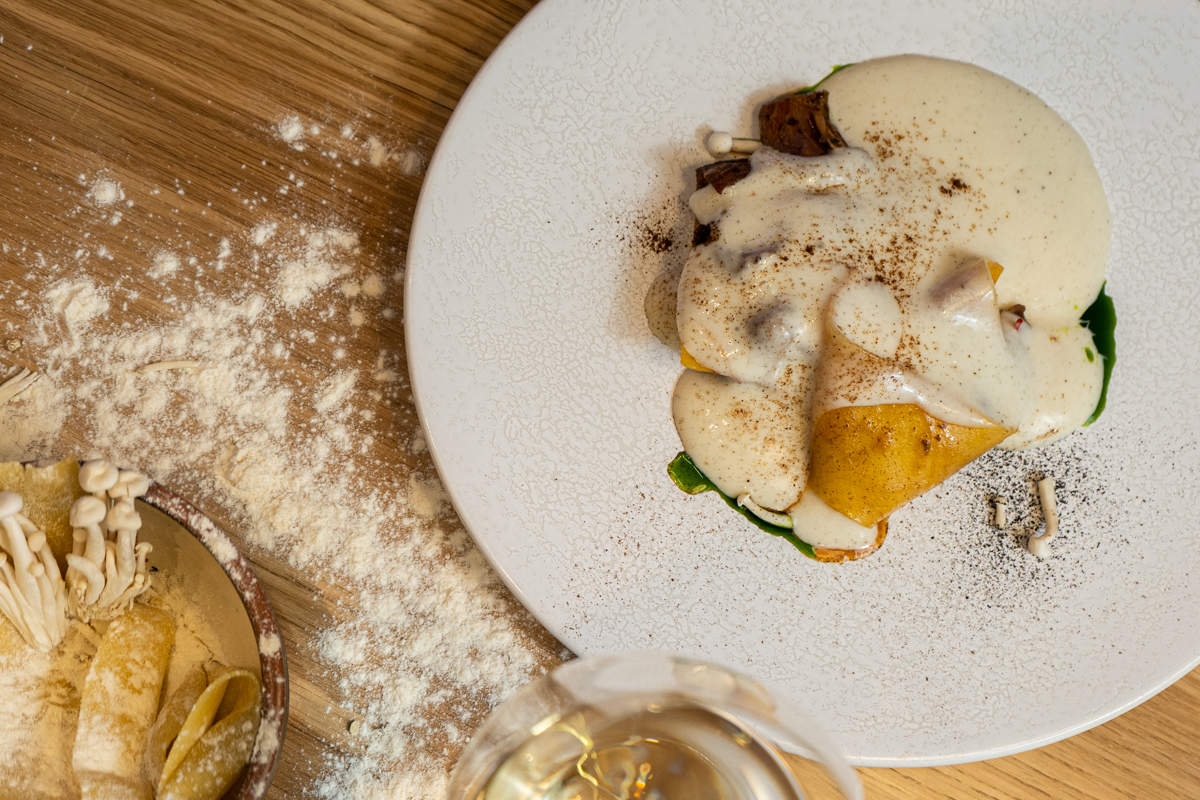 Pairing: The structure of the wine balances with the creamy character of the béchamel cream, while the aftertaste of sweet spices harmoniously matches the flavors of the dish.
INGREDIENTS
1 kg boneless lamb shoulder
1 onion
2 cloves of garlic
1 tomato
1 carrot
1 sprig of celery
1/2 tsp tomato paste
Extra virgin olive oil
1 laurel leaf
1 cinnamon stick
Carob powder
White wine
Broth
For the fresh pasta
200 g pasta flour
2 eggs
2 tbsp cold water
Semolina
For the béchamel
100 g butter
80 g flour
1 egg
Nutmeg
500 gruyere
PROCEDURE
Cut the lamb and remove the muscle fibers.
Finely chop the onion and vegetables.
In a shallow saucepan, sauté the lamb with a little olive oil.
When it is golden brown we add the onion and garlic and later the vegetables to caramelize.
Season with salt, pepper and add paprika, laurel leaf and cinnamon.
Add the tomato paste and a minute later deglaze the pan with wine (melissaki). Once evaporated add broth or water, grated or chopped tomato and simmer until the lamb is tender.
On the counter top make a small puddle of flour, add 2 eggs and mix slowly with a fork. As soon as a dilute dough is created, continue by hand and if necessary add cold water.
When you have a tight dough, cover with cling film and put in the fridge.
In a saucepan add the butter and flour to get a light color, off the heat add the lukewarm milk and put it back in the hob. With a pastry wire mix, until you have a thick béchamel, remove from the heat and add grated nutmeg, eggs, cheese, salt and pepper.
Roll out the dough into a thin sheet with a rolling pin, sprinkling with semolina. With a knife, cut the pasta into thick strips and boil it in salted water. Then add the pasta in the saucepan with the lamb and cook together for 7-8 minutes.
Serve on a plate, add hot béchamel and sprinkle with carob powder.