RECIPES
Lamb tartar with almond salad capers and almond cream with a glass of Tachtas P.G.I. Crete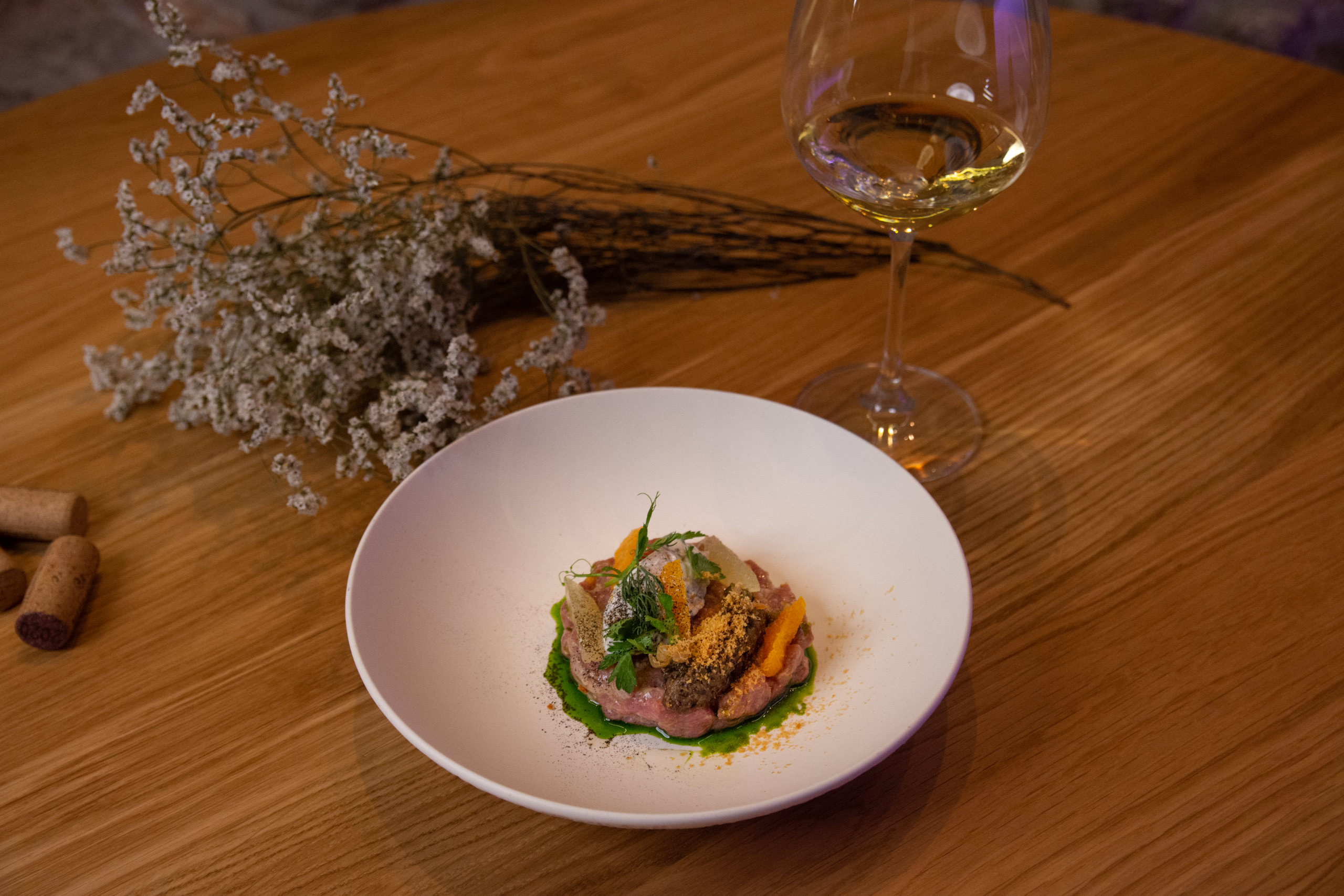 Pairing: Aromas of ripe fruits highlight the flavors of the dish, while the oily structure and the crisp acidity balance with its intense character.
INGREDIENTS
1 lamb fillet, 300- 400 g
1 medium onion
1 tbsp Greek mustard
10 g lemon juice
zest from a lemon
1 cucumber, or xilaggouro (cretan variety of cucumber)
2 tbsp extra virgin olive oil
lemon, orange
For the almond salad ̈
200g almonds without peel, or green almonds
150 g sheep's yoghurt
20 g capers
1/2 clove garlic
zest and juice from a lemon
½ bunch of parsley
½ bunch of dill
½ bunch mint
extra virgin olive oil
For the caper΄s cream
300 g capers
150 g raisins
200 ml water
PROCEDURE
Finely chop the almonds and the capers and add them into a bowl, with the yogurt, grated garlic, lemon juice and zest and the herbs finely chopped. Season with salt and pepper and add olive oil till you have a nice creamy texture. Chill in the fridge for 30 minutes to an hour.
Rinse the capers 2-3 times in cold water. Heat water and pour in the raisins to soak.
Add them to a multi-cutting mixer along with the capers and grind until you have a smooth cream. If necessary, add water. Leave in the fridge to chill.
Remove the muscle fibers from the lamb.
Freeze for 20 minutes to make it easier to cut into cubes.
Add the lamb cubes in a bowl, finely chop onion and cucumber, and add lemon zest, lemon juice, mustard and olive oil. Season with salt and pepper and leave for 3-5 minutes.
In a cold dish, set up the tartar with a round mold, add a large spoonful of almond salad, a small spoonful of cream capers and garnish with herbs, lemon and orange fillets.