7.2.2017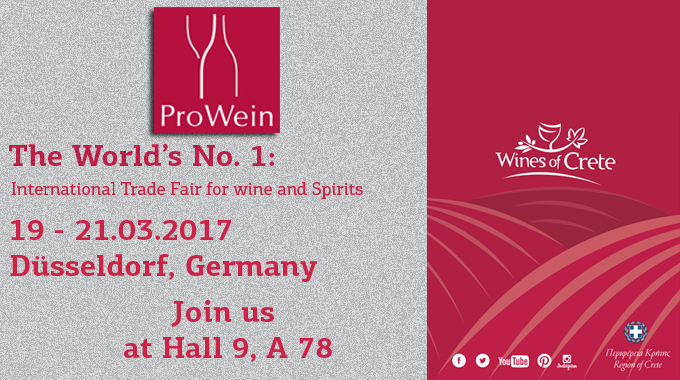 [DE] Kreta Geht auf Prowein
31 Winzer aus Kreta laden Sie ein, "Wines of Crete" zu besuchen, Halle 9, Α 78 auf der Prowein am 19.-21. März 2017
Treffen Sie 11 Winzer aus Kreta persönlich und entdecken Sie mehr als 130 Weinetiketten.
Erkunden Sie die 11 autochthonen Rebsorten aus Kreta.
[EN] Crete Goes Prowein
31 Winemakers from all over Crete invite you to visit "Wines of Crete" at Hall 9, Α 78 in Prowein, on the 19th-21th of March 2017.
Meet 11 Cretan winemakers in person and discover more than 130 wine labels.
Explore the 11 local indigenous wine varieties of Crete.
The list of the wineries that participate
Date & Opening hours
Opening hours
daily: 09:00 a.m. – 06:00 p.m.