NEWS
Bring Your Own Wine – Wine Tourism Day – Restaurants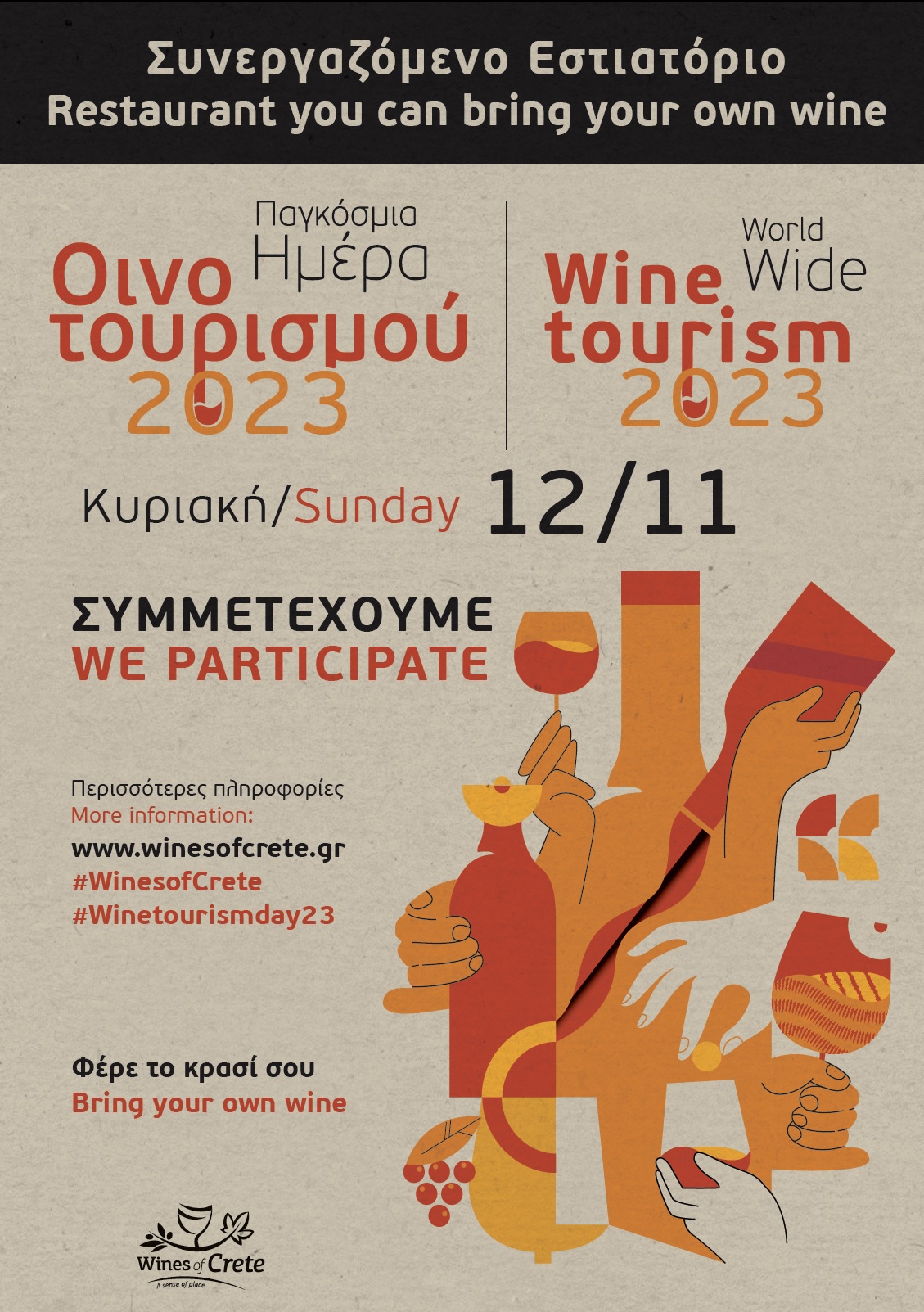 6.11.2023
For the Winetourism day, November 12th 2023, you can find above the restaurants that participate in the event "Wine tourism Day" in Crete.
You can buy a wine from a winery in Crete, and you can enjoy it with your meal in a Cretan restaurant, just by showing your receipt. The wine in the tavern is free of charge. It is obligatory that you order food with your wine.
This action, only applies for Sunday 12 of November 2023.
For more information please contact us at info@winesofcrete.gr
HERAKLION
SEMELI – Restaurant Cafe
Adresss: Houdetsi  Heraklion
Contact person: Polizoakis Andreas
Τ:  (+30) 2815 202715
ONISIMOS
Adress: Peza, Heraklion
Contact Person: Onisimos Saridakis
Τ:  (+30) 281 074 1754
Agkinara
Adress: Parasiou & Mironos 10, Heraklion
Contact Person: Maria Stiakaki
Τ:  (+30) 6940677138
Earino
Adress: Kato Asites, Heraklion
Contact Person: Kefalogiannis Nikos
Τ: (+30) 6946689652 | E: info@earino.gr
RETHYMNO
Taverna Mariou
Adress: Mariou Rethymno
Contact Person: Orfanoudaki Asimenia
Τ:  (+30)  6974599898
Petite Fleur

Adress: Eleftheriou Venizelou 36
Contact Person: Fanourakis Stelios
Τ:  (+30)  2831306868| E: stelios@petitefleur.gr
Poliou House
Adress: Asteri, Rtehymnon
Contact Person: Polioudakis Manolis
Τ:  (+30) 6970014120
CHANIA
Alibertos
Adress: Venizelou 91, Kounoupidiana, Chania
Contact Person: Giorgos Badogiannis
Τ:  (+30) 6958058404
LASITHI
Ofou to lo
Adress: Akti Papa Nikolaou Pagkalou 1, Agios Nikolaos
Contact Person: Neratzouli Paraskevi
Τ:  (+30) 6986125789