NEWS
OiNotika Wine fair in Athens, Monday, October 30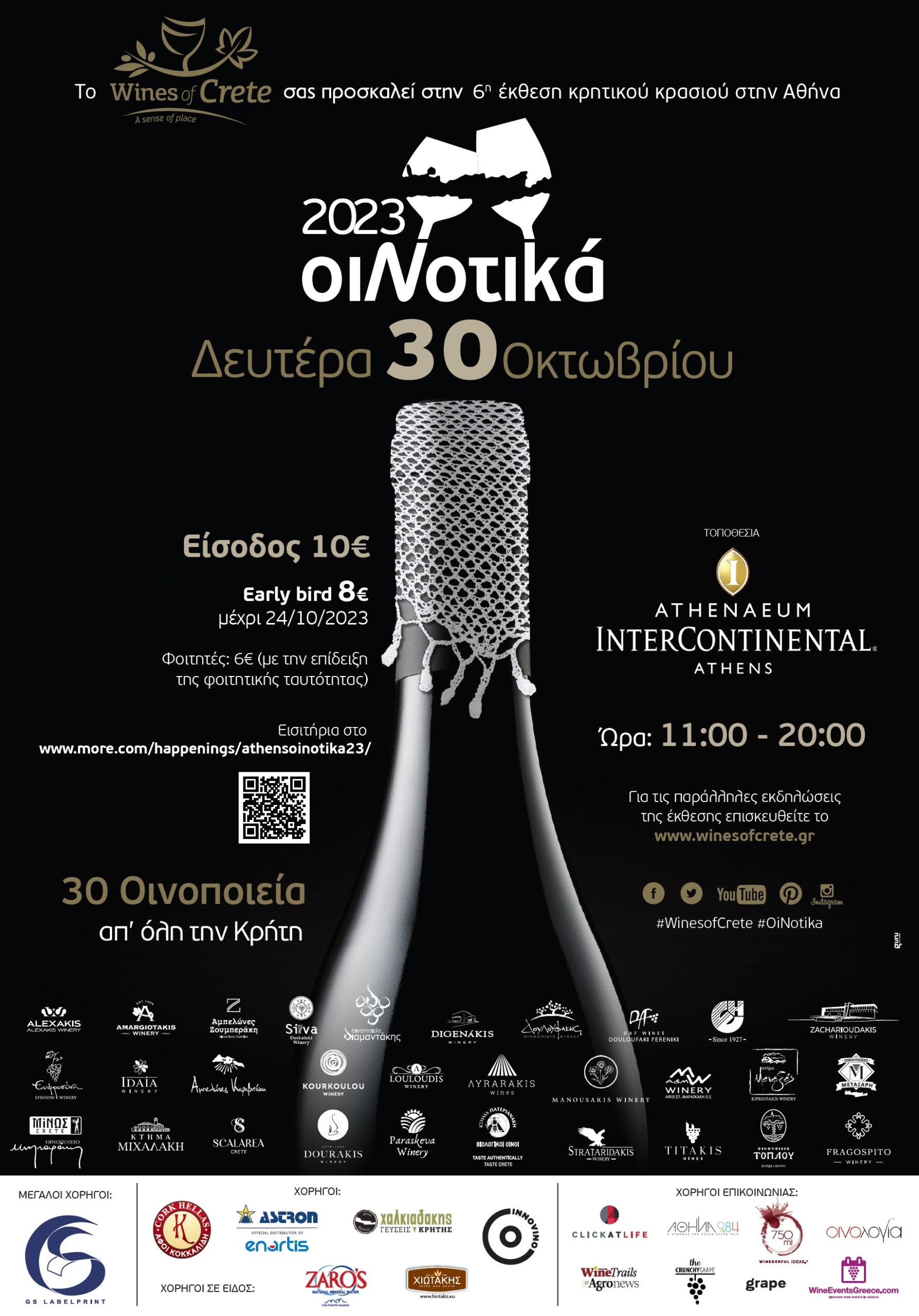 29.9.2023
The wineries members of the "Wines of Crete" winemakers network, travel to Athens again this year with 11 indigenous grapes, 7 PDO zones, 6 PGI zones and 30 Wineries, ready to welcome professionals and wine lovers alike, for tastings and wine discussions.
Our appointment has been set at the Athenaeum InterContinental Athens Hotel (89-83 Sygrou Street)
Date: Monday, October 30, 2023
Visiting hours: 11:00 to 20:00
Tickets: 10 Euros.
EARLY BIRD tickets: 8 Euros for purchase until 24/10/2023 via the website https://www.more.com/happenings/athensoinotika23/
Same entry for wine lovers and professionals
Students ticket fee: 6 Euros (upon presenting student ID)
The ticket includes the tasting glass and a note pad.
You will have a unique opportunity to try more than 300 labels of Cretan and international grapes, new and old vintages, but also to get to know the people behind the "label". Discover Vidiano, Liatiko, Thrapsathiri, Romeiko, Vilana and other treasures of the Cretan Vineyard.
Location: Athenaeum Intercontinental, Athens
Great Sponsor: GS Label Print.
Sponsors: Astron Chemicals, Cork Hellas, Innovino, Xalkiadakis Gefseis Kritis, Zaros water and Hiotakis bros.
Media Sponsors: Athina9.84, Clickatlife.gr, Grape Magazine, Agronews.gr, Wine Trails, Oinologia Magazine, Crunchy Grape, 750ml and Wine Events Greece.